The business of M・H・GROUP LTD. centers on the management of hair salons, operating Mod's Hair salons in Asia. We engage in businesses related to the hair and fashion industry such as hair and makeup for fashion magazines and shows, the birthplace of Mod's Hair brand, and bridal hair and makeup. We also operate the hair salon support business, providing know-how and the advantage of scale gained through Mod's Hair to hair salons across the nation.
Mod's Hair brand was founded in 1968 in Paris, France, as the first hair and makeup agency for fashion magazines. In 1974, Mod's Hair opened its very first salon in Saint Germain des Près in Paris. Equipped with stylishness and prêt-à-porter in hairstyle, Mod's Hair has since increased its presence throughout the world, becoming a global brand operating about 300 salons in 15 countries. Mod's Hair's Asian expansion started in 1978 in Japan. After over 30 years, Japan is now home to the largest number of Mod's Hair salons, and accounts for approximately 30% of the Mod's Hair salon networks.
In the hair salon management business, which is our Group's primary business, the Head Office creates an environment for technical training, marketing, and store development. It also provides customers with fashionable hairstyles and high-quality services through directly owned salons functioning as flagship stores and brand share salons (BS, or franchise salons) operating both in Japan and abroad.
Having completed our long-awaited preparation for starting business in the People's Republic of China, we opened our first store in the Sanlitun area in Beijing in April 2016. Mod's Hair Sanlitun Store, along with an office and an academy, is located in Beijing's fashion center Sanlitun SOHO. It will enable us to create a framework similar to the one in Japan to provide technical training and undertake staff management. We will take this opportunity to further expand into countries in Asia where we have no presence.
Based on our existing business and management resources gained through our past and present businesses, we will strive to connect companies, people, goods, and opportunities with an eye on the whole of Asia including Japan with the use of M&A.
As a team offering infinite potential to everyone concerned in the hair and fashion industry, we will strive to share the pleasure with hair stylists, hair makeup artists, hair salon owners, customers, employees, suppliers, and shareholders. At the same time, we will constantly work to achieve sustainable growth into the future.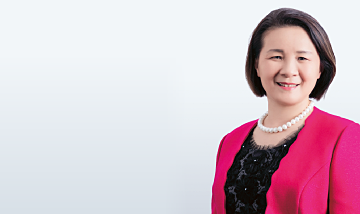 Zheng Jianhao, Chairman of the Board of Directors and Chief Executive Officer
Fumihiko Sato, President and Chief Executive Officer
M・H・GROUP LTD.