Based on resolutions adopted at the Company's 28th Ordinary General Meeting of Shareholders held on September 26, 2017 and the subsequent meeting of the Board of Directors, I, Reiko Akemine, was appointed as President and Representative Director. Under the new organization, I will strive to develop the Group.
In 2018, the "mod's hair" brand that the Group has been developing will mark the 50th anniversary of the creation of the brand and the 40th anniversary of its arrival in Japan. In regard to these achievements, we are deeply grateful for the support of all our stakeholders, including customers, shareholders, suppliers and employees. We have advocated and will continue to advocate the management philosophy of "continuing to be a lifestyle partner that is close to our customers" and we will contribute to the formation of a richer life and spirit for our customers through beauty. At the same time, we undertake management day by day based on the core principle that our stakeholders should share delight as we grow substantially in the future.
In recent years, the management environment surrounding the beauty industry to which we belong has been changing dramatically, including the diversification of means of information distribution and sales channels. As a brand that will continue to be chosen by customers, we will strive not only to improve our basic service and technological capabilities but also to respond flexibly to changes in the environment, expand our services and strengthen our product appeal. We will also expand possibilities through new challenges. Moreover, we will link the 50th anniversary of our brand creation to corporate growth through further enhancement of brand value by rebranding.
We look forward to your continued support and encouragement.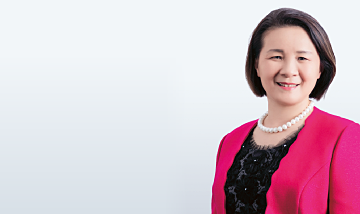 Reiko Akemine, President and Representative Director